These are songs that have kept me sane through o-chem all-nighters, remembering dates on various Shang dynasty bronze works, tired afternoons, anxiety-riddled days, and amino acid flash cards...

songs that have been the soundtrack for cookie baking sessions with friends, kitchen hang-outs, half-awake memories, and long talks in dorms...

songs played inbetween longs bouts of Dexter, Scrubs, movie-thons, homework, and sleep...

songs to navigate my way through the ocean as I search for a whale.


x

1.
Blue Ridge Mountains,
The Fleet Foxes
I know it's been said over and over again, but really: they are quite something. I've heard the term "baroque rock" used to describe their style, and although I am no expert on what baroque is, it seems fitting. The sound, I feel, is lush and extremely musical, in the sense that there are just so many complex things going on all the time. And although the Fleet Foxes are from the PNW, the music is perfect for all the winter-time East coast driving I do these days. Something about the bareness of the trees and grey skies.
Well, okay, I'm not the one doing the driving... since I only have my permit. Damnit.
2.
Midnight Sur
prise
, Lightspeed Champion
A very twangy country sound to this song caught my attention, and I was even more surprised when I realized that Lightspeed Champion was from the UK. There's one bit that I always get stuck in my head-- starts at about 0:23, and repeats several times throughout the song.
Aaand that's because it's the chorus. Good job me for finally realizing that! :)
This song reminds me of studying at the lab bench, with my books strewn out over the black table.
3.
Seven Swans,
Sufjan Stevens
Banjos are cool. So is Sufjan. I'm down.
I remember I was listening to this song in the living room when it started to snow for the first time. I then ran outside and yelled, ITS SNOOOOOWWIIIIING!!!!
4.
To Be Alone With You,
Sufjan Stevens
I've already established that Sufjan + banjos = awesome. This song just further solidifies that. And so does this picture. Falcon wings? Sweet.
5.
The Na
rwhal,
Amazing Baby
I love the intro; it makes me think of Captain Ahab standing on the bow of the Pequod*, looking out fiercely and critically over the ocean for Moby Dick. Go get him, Captain Ahab.
*I totally forgot the name
of the ship. That was wiki-ed.
4.
Random Firl
, Late of the Pier
Whats a firl? Wiki!
Damn
.
But in anycase, I'm loving the casio.
5.
Ti
me & Space
, The Cinematic Orchestra
The female vocalist on this song is amazing; I feel like I'm about to burst into a meadow of dandelions whenever I listen to it.
6.
White Winter Hymnal
, The Fleet Foxes
I love rounds! Makes me think of girl scouts, which I only liked for the songs. Mmm.
7.
Allemande
, Keane
Keane is known for their piano rock, but this more piano-centric song is just so powerful, courtesy of the kick-ass chord progressions.
8.
Be OK,
Ingrid Michaelson
The soundtrack to me sitting in ochem at 8 AM, standing in the super-long coffee line after ochem, studying ochem at 8 PM, thinking about ochem at 3 AM, and yeaah. You get the idea.
9.
Blue Flowe
r, Blue Flame
, Destroyer
I love the little guitar riff. It makes me think of ivy on bricks, for some reason. Some really random reason.
10.
So Long, Lonesome
, Explosions in the Sky
I love instrumentals, and Explosions in the Sky is my favorite instrumental band. I love the piano on this.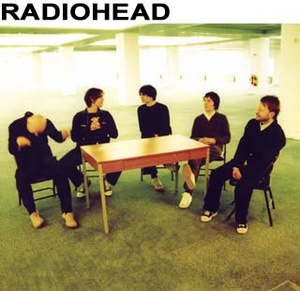 11.
A Wolf
at the Door
, Radiohead
This song = Caffeinated late-night library sessions.
12.
Saving D
ays in a Frozen Hea
d
, Kaki King
Not only can Kaki
play
shred guitar, but she can sing. You go girl.
13.
Sleepyhead
, Passion Pit
At 4:30 AM...
"Hey K, play that song again."
"But it just played."
"AGAIN!!!"
14.
God Has a Voice She Speaks To Me
, CocoRosie
I love CocoRosie. I can't stop listening to their songs, but this is the one that started it all. It's got a very shoegazey quality to it, but it somehow... isn't.
15.
The Garden That You Planted,
Sea Wolf
Anything acoustic is good. Sea Wolf is good. Hence, this song = really good. I get a really vivid picture whenever I listen to the lyrics. I think of: A small-ish room, bed, drawers, mirror crammed in there; small windows on either side, but with sun pouring in; a quiet fall morning. And someone lying in said bed, which is piled with pillows and sheets, looking up at the ceiling, which is sloping and has white chipped paint.